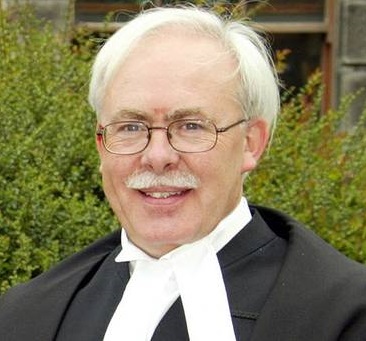 A judge has caused outrage after saying he thinks "Muslims feel they can actually beat their wives" during the trial of a Somali man accused of burglary at his former wife's house.
Judge Anthony Halpin's comments made before a packed courtroom yesterday caused a government minister and the Immigrant Council of Ireland to say he needs to immediately clarify or withdraw the remark made during a criminal case.
The judge made the statement just days after telling Tallaght Court he was to be reassigned elsewhere, saying he "may have stepped on some toes".
Leading Muslim cleric, Dr Taufiq Al Sattar – who lost his wife and three children in a house fire in the UK last year – rejected the judge's comments. Junior minister Joe Costello said "on the surface it sounds insulting and gratuitous and he should immediately clarify the remarks".
The Irish Independent understands that Judge Halpin is being transferred to the Criminal Courts of Justice (CCJ) in Dublin. He announced that his last day would be Monday, April 14.
His comments about Muslims in the busy courtroom yesterday is the latest controversy sparked by his outspoken views. He made headlines last January when he suggested the Civil Defence be drafted in to help police the sprawling Dublin suburb of Tallaght following a number of violent deaths in the area.
Judge Halpin, who started sitting in the Tallaght court in September 2011, made the comments in relation to Muslims during the case of Khadar Younis (46),of Belfry Hall in Citywest, Dublin, who had denied breaking into his divorced wife's home while she was asleep in bed. He also pleaded not guilty to breaking a protection order and being in the possession of a knife while in the house.
The court heard that his former wife, Kara Ibrahim, wanted to drop the case, saying Younis was a good father to their four children, but not a good husband to her.
Defence solicitor John O'Leary told the court that his client had been divorced by a Muslim cleric under the Qur'an. Judge Halpin responded, saying: "I think Muslims feel they can actually beat their wives".
Mr O'Leary said there was no suggestion of a physical assault and Ms Ibrahim then said that she wanted to drop the case.
Ms Ibrahim had alleged that her former husband also threatened her, telling her: "If you shout or do anything, something will happen to you". She had also claimed she was really scared of her ex-husband, saying he thought he could just come into her house.
The judge put the case back for six months with the intention to resume it or strike it out advising Ms Ibrahim to call the gardai if there were any more breaches.
Irish Independent, 28 March 2014
Update:  See "Judge apologises for 'incorrect' Muslim remark", Irish Times, 29 March 2014