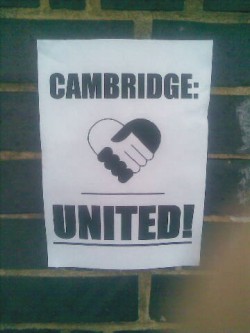 Outraged anti-fascists have hit back at a threat to "burn" a planned mosque in Cambridge's Mill Road. Cambridge Unite Against Fascism (CUAF) was reacting to a 1,600-signature petition against the £17.5 million mosque in another attack by the English Defence League (EDL). And a protest group was also criticised for a legal application to block the mosque being built claiming it could be "a front for terrorism", as the News reported.
The online petition launched by a Cambridge resident and EDL supporter also has anti-Muslim hate comments on it from contributors who claim to be from the city. But many of those posting comments appear to be from America – where the host website is based. One hate comment said: "If they still build it, burn it." The News has passed details to police.
Now a petition supporting the mosque signed by residents including Cambridge MP Julian Huppert and Richard Howitt MEP, has been relaunched.
Paul Turnbull, of CUAF, said: "The enthusiasm of people to sign our petition, both online and on street stalls, shows the enthusiasm of local people for tolerance, diversity and unity – in fact their only intolerance is of those who would spread racial division and hatred, the sort of people who were massively outnumbered on our two giant marches through the city.
"We hope the News will investigate those behind recent so called petitions against the mosque, highlighting their membership of Islamophobic and fascist organisations. Perhaps they could also find out how many, if any, of their signatories are actually from the city, and investigate comments such as the one threatening to burn the new mosque down.
"Unlike many of those opposing the mosque, I actually live two minutes from Mill Road and I'm looking forward to seeing the new building – it looks like it will be a wonderful addition to Mill Road."
Cambridge News, 15 February 2014
---
Update:  It's only four hours since the EDL posted a link to the Cambridge News report on their Facebook page, and already eight of their supporters have endorsed the call for an arson attack on the mosque: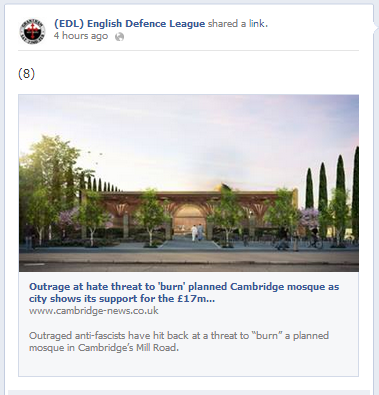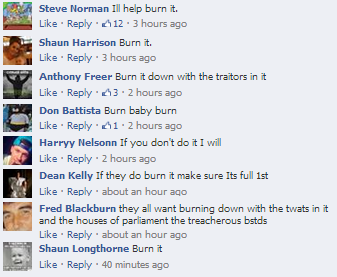 Update 2:  An EDL supporter has added his advice on the timing of the arson attack: