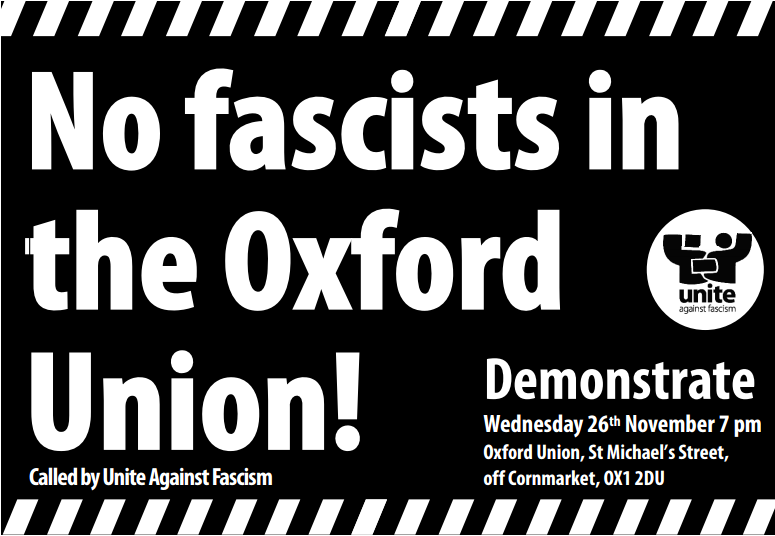 Tommy Robinson not welcome here
Demonstrate outside the Oxford Union

7 pm Wednesday 26 November
Ask your organisation to support the above protest – contact admin[at]oxforduaf.org.uk
Help to build the protest – print off and hand out and display demo leaflet and posters – contact us to join in the public leafletting sessions
(printed supplies available on request to admin[at]oxforduaf.org.uk)
Sign the open letter calling on the Oxford Union to cancel Robinson's invite
The Oxford Union is helping a vile fascist spread his poison by inviting Tommy Robinson, ex-leader of the fascist English Defence League (EDL), to speak on 26 November.
Robinson is trying to present himself as a reformed character yet he continues to communicate with EDL members and issue anti-Muslim statements via social media, including the use of the racist hash tag #rapejihad.
Robinson may have abandoned trying to lead a fascist street army but he continues to incite racial hatred against Muslims under the same false flag of tackling extremism that he used while leading the EDL. Robinson has recently shown his continuing support for the EDL tweeting "Happy to hear the EDL gave me a round of applause for me before their demo. The EDL will always hold a place in my heart."
Oxford is a multicultural city that has been targeted by fascists in the National Front trying to stir up race hatred by exploiting the suffering of rape victims and scapegoating Muslim men as the problem using the same arguments and language Robinson is using.
By inviting Tommy Robinson the Oxford Union is contributing to a climate of Islamophobia which only encourages fascists onto the streets of Oxford.
The Oxford Union should not be giving racists and Islamophobes the prestige of speaking at their institution.