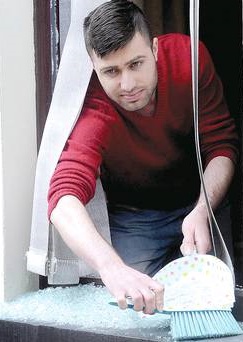 A Pakistani man has vowed to flee Northern Ireland after he and a friend were injured in two racially motivated attacks – carried out within a matter of hours.
Less than 24 hours after attending an anti-racism rally in Belfast, friends Muhammad Khattak and Haroon Khan were assaulted and had their north Belfast home set upon by thugs yesterday.
In an interview with the Belfast Telegraph, Mr Khattak blamed the atmosphere stirred up by the fallout of an anti-Islamic sermon given by Pastor James McConnell, who was later backed by First Minister Peter Robinson.
In the six months since they moved into their home in Parkmount Street in the north of the city, they said they have suffered constant racial abuse.
Mr Khattak (24) said Peter Robinson's remarks about not trusting Muslim terrorists "cast suspicion over every Muslim". And he said the controversial words of Pastor McConnell gave his attackers "the licence" to do what they did. "They have lit the fire in the forest and it is not going to stop," he told the Belfast Telegraph.
The two men – one a university graduate, the other a trained lawyer – were first attacked in the early hours of yesterday morning when a bottle was hurled through a window. They were clearing up the remnants of the smashed window yesterday afternoon when they were attacked yet again.
This time they were approached by three men who racially taunted them before setting on them. Both victims tried to escape into the house. However, the men chased them and Muhammad, who tried to lock himself into the bathroom for safety, was badly beaten with a bottle.
The 24-year-old was taken to hospital for treatment to a suspected broken foot and minor cuts and bruises. Haroon (38), was also injured, but did not require hospital treatment.
A 57-year-old man and an 18-year-old woman were last night arrested by police investigating the incidents.
Belfast Telegraph, 2 June 2014
See also "Second racist attack at Belfast house within hours", BBC News, 2 June 2014
Update:  See "Belfast pastor who criticised Islam denounces racist attack on Muslims", Guardian, 2 June 2014