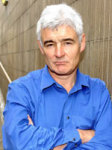 The editor of BBC current affairs show Panorama has rejected complaints from the Muslim Council of Britain (MCB) who said a programme was "deeply unfair".
The MCB complained after Panorama quoted one of its founders as saying the body was "in denial" about extreme views that prevail among its members. The group claimed editors "deliberately garbled" interviews with Muslims.
But Panorama editor Mike Robinson has now said it was an "unwarranted and wildly inaccurate attack" on the show. "I have found there to be no truth in your claims that this programme was dishonestly presented, maliciously motivated or Islamophobic," he wrote to the MCB.
---
No doubt the programme's reporter John Ware was equally innocent of bias when he headed an earlier Panorama Special in 2003, on asylum seekers, which the then home secretary David Blunkett denounced for "pursuing a Powellite anti-immigration agenda". See here.
Or to go back earlier still, in 1987 Panorama was responsible for a programme entitled "Brent Schools – Hard Left Rules". As Julian Petley recounts, in the recently published book Culture Wars: "This was introduced by John Ware who once, perhaps significantly, worked for the Sun…. it's worth noting that this particular edition of Panorama provoked an unusually large number of complaints."
Petley writes of Ware's interview with Brent council leader Merle Amory that "quite clearly, the sole purpose behind Ware's interviewing techniques was to get Amory to make an incriminating remark about Trotskyist penetration of Labour". Amory and other councillors "were never allowed freely to put their own or the council's point of view, unlike those critical of the council's policies – their function in the programme was simply to stand at the receiving end of criticisms levelled by their opponents and reinforced not only by Ware himself but by the very manner in which they were actually interviewed."
I imagine Iqbal Sacranie knows exactly how they must have felt.