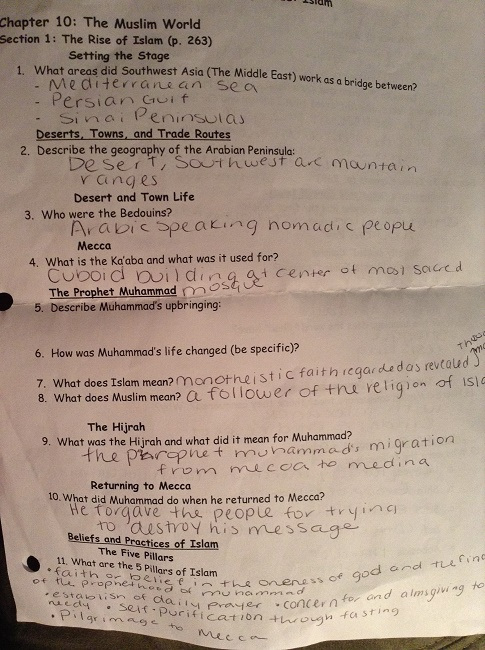 The father of a La Plata High School student has been barred from the school grounds after officials said he threatened to disrupt the school environment.
Kevin Wood was issued a no-trespass order last week after a telephone call with La Plata High Vice Principal Shannon Morris on Thursday. Wood called to air complaints regarding his daughter's world history assignment that asked students to examine elements of the Islamic religion.
Morris and La Plata High Principal Evelyn Arnold reported to the Charles County Public Schools central office that Wood in his phone call had threatened to upset the school environment in some way Monday, according to school spokeswoman Katie O'Malley-Simpson. O'Malley-Simpson declined to elaborate on what threats Wood had made.
If the trespass order is ignored, police could be called and have the violator removed. "We don't take that lightly," said O'Malley-Simpson. "We have a lot of students, and safety comes first. We don't allow disruptions at the schools, especially if we're forewarned of them."
Wood, a former corporal with the U.S. Marine Corps, where he was enlisted for eight years, said in an interview Monday afternoon outside of the school system's central office that he did not wish for his daughter, a junior at La Plata, to learn the Islamic religion, a faith he does "not believe in," he said.
Wood and his wife, Melissa Wood, said they reached out to the school last week and asked that their daughter be removed from her world history course for the duration that the class covered Islam. The Woods said they spoke by a telephone to a woman, who they identified as "Ms. Pearl," who listened to their request and said she would investigate the possibility of an alternative assignment. A directory on the La Plata High School website lists Shanif Pearl as an administrative assistant.
It was Morris who returned their phone call, the Woods said. Morris informed them that the teacher could not offer an alternative assignment, and any assignment the Woods' daughter missed would receive a failing grade. "I told her straight up 'you could take that Muslim-loving piece of paper and shove it up your white [expletive]," Kevin Wood said in an interview. "If [students] can't practice Christianity in school, they should not be allowed to practice Islam in school."
Kevin Wood, who identified himself as Catholic, denied that he had issued any threats or that he had planned to show up on the La Plata campus Monday.
In a later phone call with Morris, Kevin Wood said he blasted the school for violating his daughter's "constitutional rights" and said he would contact the media and "bring a [expletive]storm down on them like they've never seen."
"Nowhere did he ever threaten," Melissa Wood said. "And this is where it's gotten totally blown out of proportion." The La Plata school resource officer informed Kevin Wood by phone Friday he was not allowed on the property.
Students are required to pass world history as a graduation requirement, O'Malley-Simpson said. A piece of the world history course involves studying Middle Eastern culture and the formation of its empires – the Maryland State Board of Education has dictated that Middle East be part of the curriculum for many years, O'Malley-Simpson said.
At all three levels of the course, normal, honors and Advanced Placement, students study this material. Students must also enroll in government and U.S. history.
Policies exist that allow a child to complete an alternative assignment if the parents complain, O'Malley-Simpson said, but not in the case of world history.
"If parents object to a book that's assigned, and the assignment is to gather certain reading skills, assigning them a different book doesn't matter," she said. "The student still gains the skills and knowledge. In the case of world history and other subjects, it's part of the curriculum and it's part of the standards you're supposed to learn."
Students learn aspects of other religions as well, O'Malley-Simpson said. When studying the Renaissance era, they are taught aspects of Christianity and the role it played in the reformation. When students learn about China and India, Hinduism and Buddhism are both discussed, she said.
Administration will not be discontinuing the assignment in dispute, O'Malley-Simpson said.
The Woods' daughter skipped the world history class Monday and will not complete any more assignments, per her parent's wishes. She will receive "zeros" on those assignments, the Woods said. The Woods met with Superintendent Kimberly A. Hill and Assistant Superintendent of Instruction Amy Hollstein on Monday. Hill contacted the family late Sunday night to arrange the meeting, the Woods said.
Any further meetings will also include Arnold, as she will decide whether to lift the order against Kevin Wood, O'Malley-Simpson said. O'Malley-Simpson said she was unsure of how many orders have been issued in recent years, but said it was an uncommon occurrence.
Board of education member Jennifer Abell took to Facebook, saying "misinformation" had been circulated about the no trespass order.
"Charles County Public Schools (CCPS) social studies curriculum adheres to the Maryland World History curricular standards that are a requirement for all counties in the state. These standards include an analysis of the elements of culture such as art, music, religion, government, social structure, education, beliefs and customs in societies throughout history," Abell wrote on Facebook. "Regarding the study of history specifically, the standards also state that students should be able to analyze the customs and beliefs of world religions and their expansion, as well as how their establishment has impacted other areas of culture, and in certain times and regions, even caused conflict."
Melissa Wood called Abell's full post, which included line about "ensuring the safety of students and staff of the school" a "smear" against her husband. She said that she intends to address the matter both with the Maryland Department of Education and her state legislators.
See also "Maryland school bans Marine veteran over daughter's homework", Uncle Sam's Misguided Children, 26 October 2014