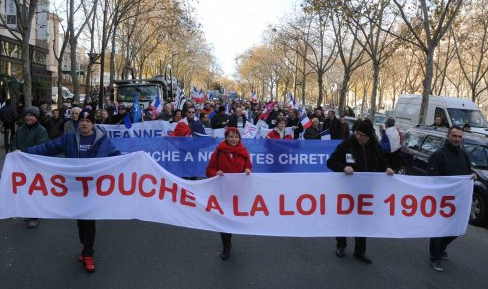 Last weekend the French "secularist" organisation Résistance Républicaine organised an anti-Islam demonstration in Paris.
It was held under what some might consider the rather contradictory slogan of "pour la laïcité et la sauvegarde des fêtes chrétiennes" (for secularism and safeguarding Christian holidays). The role of secularists, according to Résistance Républicaine and its co-thinkers, is to defend the Christian culture of France against the onslaught of Islam. The participants chanted "Islamists – racists, fascists and assassins!" and "Fascism shall not pass, Sharia shall not pass".
Résistance Républicaine is a front organisation for Riposte Laïque, which is headed by ex-leftists Pierre Cassen and Christine Tasin. Cassen, who was one of the speakers at the demonstration, is in fact a former Trotskyist whose warped interpretation of secularism led him to embrace a virulent form of Islamophobia, taking him into the arms of the far right.
Other speakers at the protest included:
Stéphane Lormenil, president of Génération Patriotes, with which Résistance républicaine in organising an anti-Islam protest in Metz earlier this year. Hugues Bouchu of Réseau Identités, who campaign against the "human and cultural immigration" which they complain is transforming Europe into a "multi-ethnic society". And Paul-Marie Coûteaux of the far-right political party SIEL (Souveraineté, Indépendance et Libertés), which is part of the Rassemblement Bleu Marine political alliance dominated by the Front National.