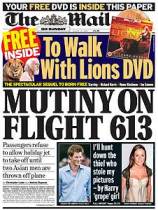 British holidaymakers staged an unprecedented mutiny – refusing to allow their flight to take off until two men they feared were terrorists were forcibly removed.
The extraordinary scenes happened after some of the 150 passengers on a Malaga-Manchester flight overheard two men of Asian appearance apparently talking Arabic.
Passengers told cabin crew they feared for their safety and demanded police action. Some stormed off the Monarch Airlines Airbus A320 minutes before it was due to leave the Costa del Sol at 3am. Others waiting for Flight ZB 613 in the departure lounge refused to board it.
The Monarch pilot accompanied by armed Civil Guard police and airport security staff, approached the two men and took their passports. Half an hour later, police returned and escorted the two Asian passengers off the jet.
Websites used by pilots and cabin crew were yesterday reporting further incidents. In one, two British women with young children on another flight from Spain complained about flying with a bearded Muslim even though he had been security-checked twice before boarding.
Mail on Sunday, 20 August 2006
---
Robert Spencer comments: "no doubt all sorts of opprobrium is now going to rain down on the passengers' heads: cries of ingrained 'Islamophobia', and calls by Muslim leaders and their willing Leftist stooges for some kind of institutionalized and nationwide 'education' (i.e. propaganda) campaign to prevent this sort of thing."
For Osama Saeed's comments, see Rolled Up Trousers, 20 August 2006
See also Pickled Politics, 20 August 2006
Update:  See "Anger as 'mob' forces Muslim men off aircraft", Independent, 21 August 2006