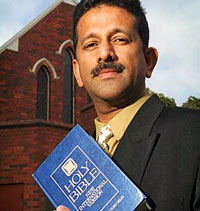 A Christian pastor who has been ordered to apologise for vilifying Muslims says he will go to jail rather than say sorry for his comments.
Victorian Civil and Administrative Tribunal (VCAT) deputy president Michael Higgins ordered two pastors of an evangelical order, Catch the Fire Ministry, to apologise for comments they made in a speech, on a website and in a newsletter. In a landmark ruling, the tribunal found Muslims were vilified by claims that Muslims were training to take over Australia, encouraging domestic violence and that Islam was an inherently violent religion.
Outside the tribunal, Danny Nalliah – one of the pastors taken to VCAT by the Islamic Council – described himself as a martyr and said he would go to jail before apologising.
Throw away the key, I say.