A European election candidate has been arrested on suspicion of "religious or racial harassment" in a Hampshire city.
Liberty GB candidate Paul Weston had been reading a Winston Churchill quote describing Islam as "militant" and "retrograde" through a megaphone outside Winchester's Guildhall on Saturday afternoon.
Standing on the steps of the Guildhall, he addressed passers-by with an excerpt from former Prime Minister Churchill's book The River War, written in 1899 while he was a British army officer in the Sudan. Police were called after complaints from members of the public, and the 50-year-old, from Dorset, was told to disperse but failed to do so.
A spokesman for Hampshire Constabulary said: "He was further arrested on suspicion of religious or racial harassment. He has been bailed pending further enquiries to report back to police on May 24."
He is one of three Liberty GB candidates standing to represent the South East as MEPs. His party's six-point manifesto argues for a "rejection of the notion of Britain as a global no-man's land upon which any of the world's teeming millions may lay claim" and the upholding of "Christian ethics and Western civilization".
Defending his actions, Mr Weston said: "I thought there was no point in competing with UKIP in terms of talking about the European Union, so I would talk to the people of Winchester about Islam."
But he has been heavily criticised by fellow MEP candidates. Liberal Democrat candidate Antony Hook described Liberty GB as holding "unpleasant and deeply Islamophobic" views. He said: "If someone has gone out and started to espouse their hatred then I think that is absolutely disgraceful."
They are two of 118 candidates from 15 parties taking part in the election, which will be held on May 22.
Southern Daily Echo, 28 April 2014
See also "Euro candidate Paul Weston arrested over Islam remarks", BBC News, 18 April 2014
---
Paul Weston stood as a UKIP candidate for the Cities of London and Westminster constituency in the 2010 general election. He then left UKIP, claiming that after Nigel Farage replaced Lord Pearson as leader the party had gone soft on Islam. Weston subsequently joined the far-right British Freedom party, of which he became chairman, with English Defence League leaders Stephen Lennon and Kevin Carroll later being appointed vice-chairmen.
Lennon soon became disillusioned and left to concentrate on organising street protests, while Weston himself departed not long afterwards to be replaced as chairman by Carroll, and by the end of 2012 the BFP had collapsed. Weston went on to launch Liberty GB, but so far it has had even less of an impact that the BFP. Presumably Weston hoped to drum up a bit of publicity by provoking his own arrest.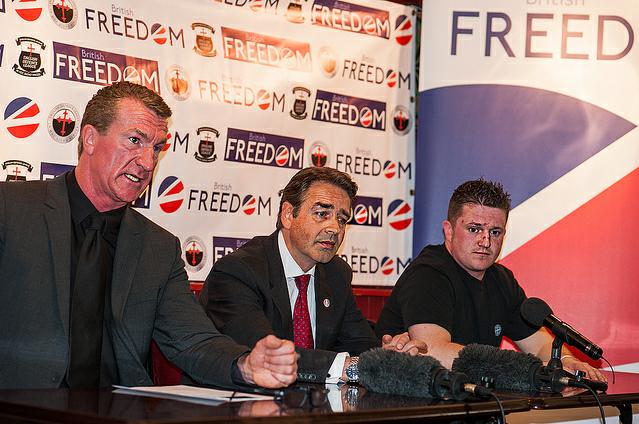 Weston with EDL leaders Carroll and Lennon at a BFP press conference in May 2012
Update:  The Daily Mail provides this far-right racist with some free publicity, by publishing a sympathetic report headed "Arrested for quoting Winston Churchill: European election candidate accused of religious and racial harassment after he repeats wartime prime minister's words on Islam during campaign speech".
Update 2:  See Ryan Erfani-Ghettani, "Is the far Right setting the Daily Mail's agenda?", Institute of Race Relations, 1 May 2014