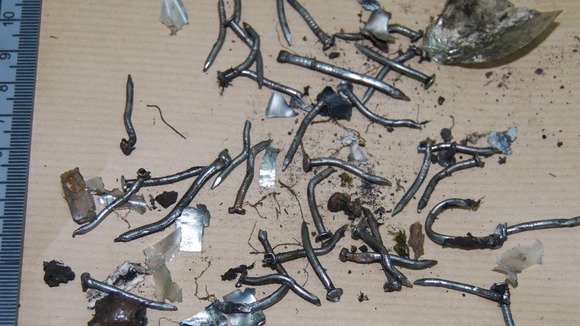 Remains of the nail bomb that Pavlo Lapshyn planted outside the Kanz-ul-Iman Central Jamia Mosque in Tipton
A white supremacist terrorist who admitted murdering a Muslim pensioner and plotting three explosives devices at mosques in the West Midlands has sentenced to life in jail.
Pavlo Lapshyn, 25, admitted to stabbing grandfather Mohammed Saleem as he returned home from evening prayers in Small Heath, Birmingham on 29 April. He also pleaded guilty to planting three explosive devices near mosques in Walsall, Wolverhampton and Tipton.
Lapshyn from the eastern Ukrainian city of Dnipropetrovsk, was sentenced to a minimum of 40 years in prison at the Old Bailey. As well as murder, he was also sentenced to 12 years for offences under the Explosives Substances Act and 12 years for offences under the Terrorism Act, all to run concurrently.
The prosecution pushed for Lapshyn to receive a whole-life tariff, meaning he would never be able to apply for parole.
Lapshyn, had only been in the UK for five days before he committed the murder. It was revealed he had planned his "race war" a year before he arrived in Britain by building explosive devices in Ukraine and researching where to the purchase the necessary components in Birmingham.
Judge Justice Sweeney told Lapshyn he clearly holds "extreme white supremacy views and racial hatred". He added his views are "abhorrent to all right thinking people and have no place in our society and have no place whatsoever in our multi-faith and multi-cultural society".
Lapshyn said the reasons he had for stabbing Saleem three times was because he had "racial motivation and racial hatred". He also admitted to police that the purpose of the mosque attacks was "to commit a terrorist act". He said he wanted to set off a series of bombs across the West Midlands so "Muslims would have to leave our area". He added he chose mosques as his target so there was "little risk of white people suffering".
The judge said Lapshyn was "clearly planning to plant and detonate more devices" had he not been caught. Lapshyn had used four times as much explosives in his second bomb than his first.
Lapshyn planted the first of his improvised explosive devices (IED) – hidden in a child's lunchbox – by gates outside Walsall's Aisha Mosque in Rutter Street on 21 June. Seven days later he detonated an IED on a roundabout near Wolverhampton Central Mosque. His attack on the Kanzul Iman Masjid mosque in Binfield Street, Tipton, on 12 July was the first time he used nails and debris in his device.
A statement from Saleem's family said the 82-year-old had been killed by a "gutless coward". The family added: "None of us can put in words what we truly feel. We cannot move forward, the murder has disabled our minds in every emotional way possible."
Asstant chief constable Marcus Beale, of West Midlands Police, added Lapshyn was a "dangerous, evil and completely ill-informed man".
Louise Gray, a lawyer for the Crown Prosecution Service counter terrorism division, said: "Pavlo Lapshyn is a dangerous man with a dangerous agenda. Just a day after his arrival in Britain from the Ukraine he was researching right wing supremacist websites, including those linked to convicted racist murderers in Russia.
"His self-confessed racist views led to a campaign of terror which started with the brutal murder of 82-year-old Mohammed Saleem Chaudhry as he was walking home from Mosque after evening prayers. In the days that followed, he went on to detonate three explosive devices near Mosques around the region, with the bomb at Tipton deliberately timed to coincide with the start of prayers.
"This case is a clear reminder of the link between extremist material and the very real threat to life posed by those who access it. It is also a reminder that the threat of terrorism comes from a very wide spectrum of hateful views."
Sentencing was temporarily delayed following the discovery of a suspicious package at the Old Bailey.
International Business Times, 25 October 2013
See also "Pavlo Lapshyn: Should Cobra have discussed mosque bombings?", BBC News, 25 October 2013
And "Mosque bombings: Mohammed Saleem murder police 'blinkered'", BBC News, 25 October 2013
Update:  See "Lapshyn murder: Anti-Muslim terrorism and the extremism that feeds it", Muslim Council of Britain press release, 25 October 2013
Update 2:  Sentencing remarks of Mr Justice Sweeney can be read here.