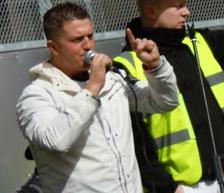 The leader the English Defence League launched a verbal attack on a member of the far-right group before head-butting his victim, a court has heard.
Stephen Lennon, founder of the EDL, "goaded" a crowd of followers during a rally by 2,000 supporters in Blackburn on April 2. The 28-year-old, from Luton, launched a tirade against Alan McKee, who was accused of putting messages on the internet about police informers and "grasses". He called Mr McKee a "degenerate mug" before trouble broke out in the crowd amongst EDL members, Preston Magistrates' Court heard.
Mr McKee, 33, was pulled from the crowd by stewards for his own safety and taken away by police officers. But he later confronted Lennon about his speech as the rally continued with other speakers. Lennon, who was surrounded by his own security guards and EDL stewards, then allegedly lunged or stepped forward and head-butted Mr McKee.
Around 20 EDL members sat in the public gallery to listen as the case was outlined. More supporters milled around the court building among a heavy police presence.
Don Green, prosecuting, showed the court the speech given by Lennon on a DVD, filmed by police on the day. He said the two exchanged words: "The defendant lunged forward and head-butted Mr McKee once in the face, causing a cut across the bridge of his nose."
Mr McKee, who was drunk at the time, was arrested and taken away. The court heard he did not want to make a formal complaint and will not give evidence in court. Lennon was arrested on June 15 and denies common assault.
Press Association, 29 September 2011
Update:  See "EDL leader convicted of assault", Press Association, 29 September 2011
Lennon devoted his speech at the Blackburn protest to denouncing Alan Smith of the North East Infidels, a dissident faction of the EDL. Alan McKee was mistakenly identified as Smith and manhandled to the front of the crowd where he was subsequently headbutted by Lennon. So Lennon didn't just assault a political opponent – he headbutted the wrong man. (See here and here.)