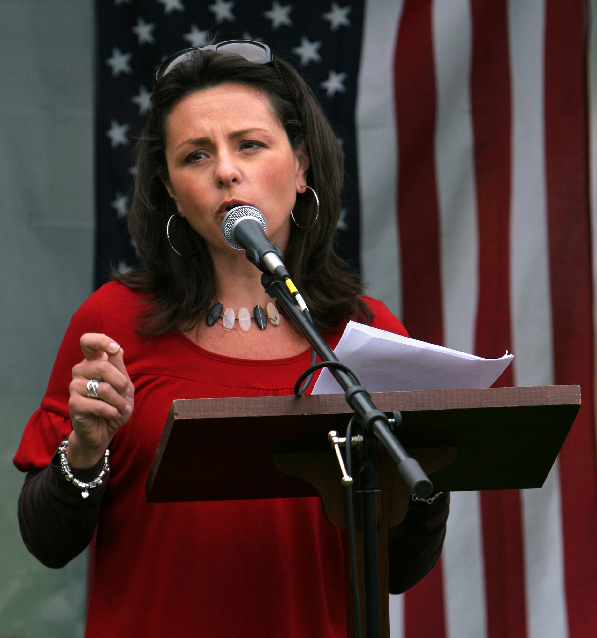 Between plummeting polling and mounting ethics scandals, Tom Corbett is in a tough place politically. So it's no surprise that he's shaking up his staff, including a new chief of staff and secretary of legislative affairs.
One staff addition that isn't receiving as much attention is Ana Puig, the founder of the Bucks County-based tea party group the Kitchen Table Patriots, who was just hired by Governor Corbett as the legislative liaison for the Pennsylvania Department of Revenue.
Puig is as tea party as they come. In recent years, she has promoted an event featuring topics including "The Muslim Brotherhood and creeping sharia law in America" and "Pro-Islamic bias and indoctrination in our public school textbooks."
In 2009, Puig told the New York Village Voice that Barack Obama is a Marxist and that the way Obama advanced health care reform was "the same thing" Hugo Chávez did to Venezuela – an "infiltration of the education system, political correctness, class warfare ideology, voter fraud, brainwashing through the mainstream media."
In 2011, she defended a member of her Kitchen Table Patriots who sold Nazi memorabilia, including German World War II military uniforms, medals and badges, edged weapons, flags, field gear and Hitler Youth accessories. Puig told the Bucks County Courier Times that the Nazi-enthusiast in their ranks "is, in essence, our media guy" and "concentrates on taping events, streaming them live."
Puig said that "the bottom line is he is a historian" and "is an extremely smart person."
Her Kitchen Table Patriots website also features a blog that promotes the "birther" conspiracy, refers to the President as a "petulant child," and says that Obama is a member of the Muslim Brotherhood.
Puig also has her own pet conspiracy theory about the President's "model for implementation of 21st century Marxism" in which she blames the media, the entertainment industry, and schools for branding the Messiah (President Obama) into our society.
According to the Inquirer, Puig was hired August 12 at an annual salary of $68,245.