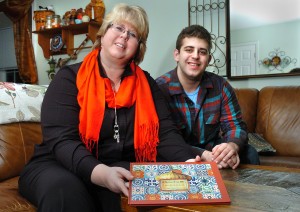 Lisa Abdelsalam said she feels "like she swallowed poison" in the days since the threat of parental protests caused the Muslim mother and author to cancel a talk with students at A.M. Kulp Elementary School in Hatfield. "I have a such a sick feeling in my stomach," said Abdelsalam, 48, who lives in Colmar with her husband and children, all of whom were or are North Penn students.
Born in Lansdale, the 1981 North Penn High School graduate converted to Islam at 19, when she married her husband, who is from Egypt. As she has many times at many North Penn schools, she was scheduled to meet with several Kulp classes over four days earlier this month to discuss how she wrote and published her book, "A Song for Me, A Muslim Holiday Story," based on her son Yoseph's experiences at York Avenue Elementary in the 1990s.
"A Song for Me, A Muslim Holiday Story," has illustrations based on pictures of the York Avenue school and details a Muslim boy's efforts to fit into the holiday spirit at Christmastime.
A few days before her appearance at Kulp was to take place, Principal Erik Huebner called her. The principal, according to Abdelsalam, told her a few parents had complained about the program and threatened to bring in an outside group to protest if the classes went forward. "They did not want a Muslim or a Muslim book read in their classrooms," she was told.
Abdelsalam, a longtime volunteer at Kulp where she previously served as president of the Home and School Association, and a current member of the district's diversity committee, was taken aback. "I was serving pizza with these people last year," she said.
Huebner was supportive, said the author, and said she was welcome to come regardless of the protests. However, both she and the principal decided it was best to cancel, for the sake of the young students. "I didn't feel it would be right; it wasn't one day, it was four days over two weeks," she explained. "It's not a battle that should be fought in an elementary school parking lot."
phillyBurbs.com, 22 December 2011
See also Montgomery Media, 22 December 2011
Update:  See "Muslim author carries a universal message",phillyBurbs.com, 27 December 2011