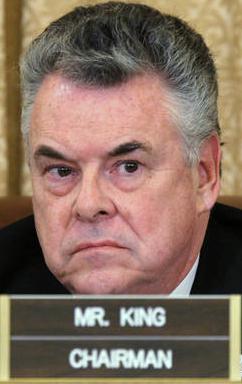 The days and weeks leading up to Rep. Peter King (R-Seaford) hearing on the radicalization of Muslim-Americans back in March was filled with heated rallies and protest. Protesters called the hearing "un-American" and said investigating one community brought them back to the days of "McCarthyism".
Going into Wednesday's second hearing concerning radicalization in the prison system before the Homeland Security Committee, which King chairs, the tone has died down considerably. But there is still concern in the Muslim community and other religious groups that these hearings are disenfranchising Muslim-Americans.
"The congressman's focus on the whole community, singling out one community for this hearing is not right," Dr. Faroque Khan, a member of the board of trustees for the Islamic Center of Long Island, told the Press. "It sends the wrong message, it's counterproductive, it's not going to accomplish anything, and it basically violates the first amendment; that he's attacking the religion."
The Muslim-American community gathered at the Islamic Center of Long Island on Tuesday for one of the few protest leading up to the congressman's second hearing.
Dr. Shaik Ubaid, co-chairman of the New York Chapter of Muslim Peace Coalition Committee said in a phone interview that religious groups decided to hold discussions at the community level "rather than giving congressman King some free publicity".
Ubaid, who was an active protester during King's first hearing, said these hearings could do more harm than good. He cited other violent gangs in prison that are prevalent across the country, and questioned why the congressman is only investigating Muslims in prisons.
"What is the motivation of the hearing?" he said. "It's not going to make the country any safer. It's just going to stereotype and increase more polarization in the country."
Long Island Press, 15 June 2011
See also "Law enforcement officials at King hearing claim radical Islam infiltrating US prisons", Fox News, 15 June 2011