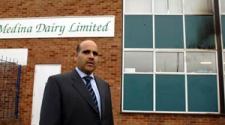 A Muslim-owned dairy has been targeted by youths over three nights in a campaign of harassment culminating in a petrol bombing, a worker said.
The Medina in Windsor, Berkshire, has suffered at the hands of local youths who have been targeting staff for the past three nights, the unnamed worker claimed. He said the youths would gather in gangs of up to 30 and throw stones and hurl abuse at staff working at the dairy late at night.
Police have been patrolling the area since Monday when the attacks started, he said. But on Wednesday night an attacker riding a motorbike threw a home-made petrol bomb at the dairy's perimeter wall. The worker told the Press Association that police later found a stash of the bombs hidden around the corner from the firm, which is located on an industrial estate outside the town.
He said that workers had often had trouble with local youths who would target the company, but that things had escalated in the last three days. "We've had trouble before but never like this. The police always come but the youths only live round the corner so they know when the police have gone and that's why they attack us."
He said that a skeleton staff of just five male workers ran the dairy in the evenings and it was those workers who were bearing the brunt of the attacks, which usually occur after 10pm.
Dairy owner Sardar Hussain, 46, was not available to comment on the attacks. The businessman has recently been reported as saying that the area is in desperate need for a place for Muslim worship.
Press Association, 5 October 2006
See also BBC News, 5 October 2006
Reporting for Channel 4 News, Alex Thomson stated: "The fact that a small industrial plant in a largely prosperous town in the Home Counties can ignite such tension tells us much about Islam in Britain today." A more appropriate comment, surely, would be that it tells us much about anti-Muslim bigotry in Britain today.