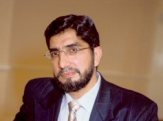 "Sacranie has been one of the most important advocates of radical Islam in the United Kingdom…. Among Sacranie's actions: calling for censorship of religious speech, trying to change the plot of the action series 24, boycotting Holocaust Remembrance ceremonies, denying the existence of Islamic terrorists, interpreting the Bush administration's true agenda as the 'recolonization and the re-mapping of the Middle East', and accusing Israel of genocide."
Daniel Pipes takes exception to Iqbal Sacranie of the MCB being included in the Queen's Birthday Honours list.
Among the authorities Pipes cites for evidence of Sacranie's extremism is Militant Islam Monitor. Well, you can't find a much more reliable source than that, can you? And to think there are sceptics who question Pipes' standing as an expert in Islamic studies.