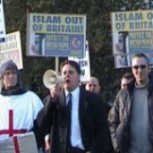 Controversial plans for a Muslim community centre in Solihull have been withdrawn amid calls for greater acceptance towards minority groups.
Solihull Muslim Community Association (SMCA) applied for planning permission to establish the centre, complete with prayer hall, in Dog Kennel Lane, Shirley, with 50 parking spaces. Now the group – which has been searching for a home in the borough for 25 years – has announced that it has withdrawn the plans for "technical reasons".
Fears were rife that racial tension could erupt in Solihull following a leaflet campaign by the BNP against plans for the centre which also included a wudu for washing before prayer. The leaflet, posted to homes near the proposed site, claimed there was an "Islamification" of Solihull and said the centre would lead to "conflict" and "discontent".
A mother-of-three, who lives near the proposed centre and had objected to it, said she had mixed feelings about news of the application being withdrawn.
"I objected to the centre because of where it was on a busy road and I was concerned about overspill parking and I know other people objected on the same grounds," said the woman, who did not wish to be named. "However, on the other hand I'm disappointed it's been withdrawn and just hope it isn't because of people with narrow minded views like the BNP. I felt sickened when their leaflet came through my door. I would hate the BNP to think it had won."
Birmingham Mail, 18 March 2008
---
Meanwhile the fascists are crowing that "Solihull BNP has won a famous victory on behalf of local people".