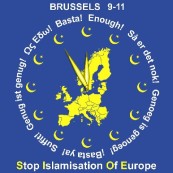 BRUSSELS, Belgium: Police arrested two leaders of a Belgian far-right party Tuesday for staging an illegal protest against the "Islamization of Europe," six years to the day after the terrorist attacks on New York and Washington.
Police scuffled with some of the 200 people who converged on two squares in the EU district of Brussels to protest against what they perceived as the rise of Islam as a significant political force across Europe. Officers handcuffed two leaders of the far-right Flemish Interest Party, which is very critical of Muslim immigrants, and took them away in police vans.
The Italian Foreign Ministry said it was protesting the detention of an Italian member of the European Parliament, Mario Borghezio, who attended the demonstration. Borghezio is from the Northern League, an Italian regional party with an anti-immigrant stance. Italian state TV showed footage of Borghezio yelling as police were taking him away that he is a member of the European Parliament. He was later released.
Protesters sought to use the Sept. 11 anniversary to point out that Islam threatens democracy and the rule of law in Europe. The demonstration was initially planned by Stop Islamization of Europe, a loose alliance with roots in Germany, Britain and Denmark, which had predicted that 20,000 people would come to Brussels from all over Europe. Brussels Mayor Freddy Thielemans banned the protest last month, calling SIOE an inflammatory group and its proposed demonstration a threat to public order. An appeals court upheld the ban Aug. 29.
Only 200 or so protesters showed up Tuesday for a protest lasting only 30 minutes. The demonstrators faced more than 100 police, backed up by water cannons and helicopters, who closed off streets around the EU headquarters.
"We support the goals of the demonstration to protest against the lack of freedom of expression in this country," said Frank Vanhecke, the head of the Flemish Interest Party, before he was bundled off to the police station. "And we also we fully agree that the rise of Islam in Europe poses a risk to our values."
Associated Press, 11 September 2007
---
The British National Party declares its solidarity with its far-right co-thinkers in Brussels, and warns: "Europe looks set for more of these kinds of protests as decent European patriots become more and more frustrated and angered by the endless appeasement by liberal-leftists in positions of power and influence."