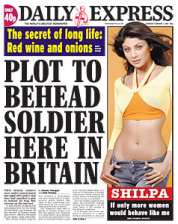 Police investigating the alleged plot to abduct and behead a Muslim soldier expressed growing anger yesterday at a series of leaks and briefings which they say are hampering their inquiry.
Whitehall officials briefed journalists early on Wednesday before all of the suspects had been found, with the result that lurid details of the alleged plot were broadcast while one suspect remained at large.
At least one tabloid newspaper had even been tipped off the night before the dawn raids, and its reporters put on standby to race to Birmingham.
Police sources in the West Midlands said yesterday they suspected the anonymous briefings may have been intended to deflect attention from the prisons crisis and the cash for honours inquiry.
We look forward to the Times running an article claiming that plots and paranoia are mainstream views within the police force.