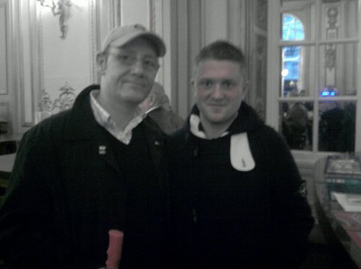 A death threat to George Galloway is being investigated by police in London. Mr Galloway asked the Metropolitan Police to investigate after a threat was posted online by a member of the far-right English Defence League (EDL).
He contacted the police at Streatham near his south London home after a senior EDL member Daryl Hobson [pictured, with EDL leader Stephen Lennon], who has boasted of the group's links with Norwegian killer Anders Breivik, posted a message reading "Kill George Galloway" on his own Facebook page. Mr Hobson, who organises EDL demonstrations, encouraged others to add comments. One claimed he would kill the controversial former MP.
Mr Galloway said: "This is a clear incitement to murder me and I have passed on, through my lawyer, my complaint to the Metropolitan Police. Hobson admits that the crypto-fascist EDL have had extensive links with Breivik so I would be mad not to take this threat seriously. I have, in the past, been attacked at a meeting by EDL thugs. But they will not silence me or anyone else campaigning against their vile, violent, racist methods."
Officers from Streatham Police office visited Mr Galloway's home yesterday and have arranged to interview him today. A Met spokesman confirmed that officers were investigating the internet threat.
Update:  The EDL have issued a statement. Daryl Hobson is not and never was a senior member of the EDL, Stephen Lennon hasn't a clue who he is, and he's now been expelled.