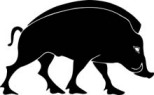 Pork soup is back on the menu for homeless people in Paris after a judge ruled it could not be deemed racist.
Organisers of soup kitchens linked to extreme rightwing groups overturned a ban imposed by the city authorities over fears that its handouts discriminated against Jews and Muslims. Police had shut down food distributions by the organisation SDF (Solidarité des Français) – the same initials as given to the homeless group Sans Domicile Fixe – because of alleged xenophobia and fears of protests.
Groups across the country associated with a rightwing organisation called Bloc Identitaire have been handing out "soupe au cochon" since 2004. Last winter Fabienne Keller, the mayor of Strasbourg, justified banning the soup kitchens saying: "Schemes with racial subtexts must be denounced." The groups insist that they are only serving traditional Gallic fare to "our own". Pork soup is a staple of the French pastoral heartland from which, nationalists say, all true French spring.