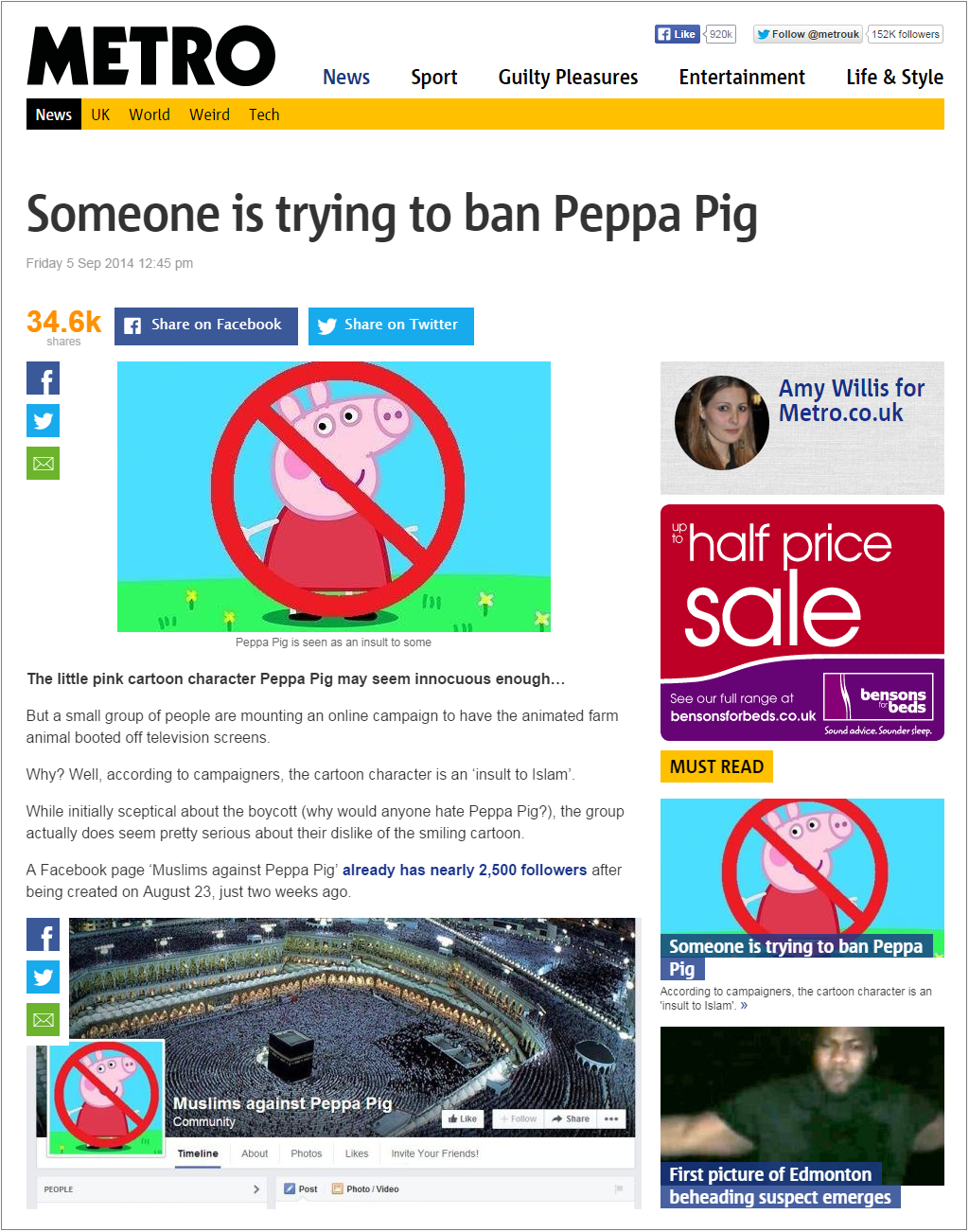 Not content with their annual campaign to cancel Christmas, Muslims are demanding a ban on the popular children's cartoon series Peppa Pig, because it is an "insult to Islam". Or so you would conclude if you believed reports published yesterday by the Metro and Mirror.
According to this story, which quickly spread across the internet, a British Muslim named Zayn Sheikh had posted a Youtube video calling for a campaign to ban the children's cartoon character after it inspired his young son to want to be a pig rather than a doctor. Instead, Sheikh argued, Muslims should be promoting an alternative cartoon of his own creation called Abdullah the Cat.
Pamela Geller was among those who swallowed the story whole. "On the day after a Muslim beheaded an elderly woman in broad daylight as she was gardening", an indignant Geller wrote, "you would think that Muslims in the UK would be anxious to prove that they were a loyal, non-lethal population. No, instead they're more demanding and supremacist than ever, now calling for a ban on a cartoon pig."
As the young man who made the video has since pointed out, it was an obvious spoof and journalists were "writing nonsense". As for the "Muslims against Peppa Pig" Facebook page mentioned in press reports, which featured an appeal to sign an online petition initiated by "Zayn Sheikh" supporting a ban on the cartoon, he states that he had nothing to do with it. Indeed, it is quite clear that the "Muslims against Peppa Pig" page (which has now been taken down) was set up by anti-Muslim bigots with the aim of smearing Islam.
When it comes to slandering Muslims, it seems, people will believe just about anything. And irresponsible journalists will happily feed the Islamophobic hysteria of their readers without bothering to check the accuracy of their reports.
Suhail Patel has further details.