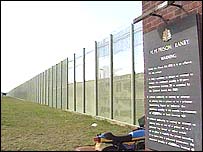 A bomb made by jail inmates to blow up Muslim prisoners came within moments of exploding outside a prayer meeting.
The device, made with fireworks and detonators smuggled in with a fishing rod, was put in a room where worshippers wash their hands and feet for Friday prayers.
But a prison officer spotted it, picked it up and carried it into the middle of the playing field. A bomb disposal unit called to Ranby Prison in Retford, Notts, confirmed the bomb was a viable device primed to go off.
The whole prison was put into lock-down as police were called in and an inmate was arrested after explosives dogs searched the cells.
A prison source said: "This could have caused a bloodbath. It was only because of a vigilant officer that the bomb was carried away. When the bomb squad got to the jail they went mad as it could have gone off at any time."