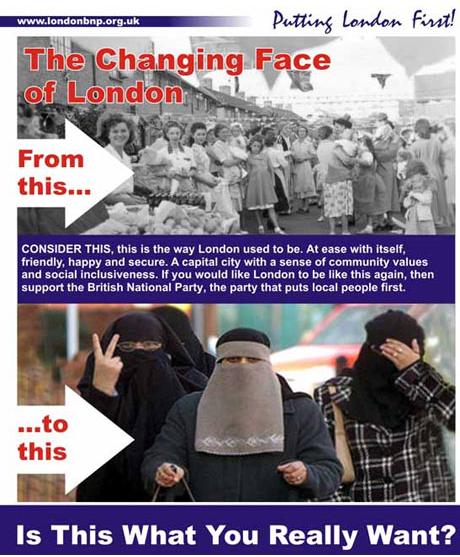 Senior prosecutors are calling for the laws on race hate crimes to be strengthened to counter the threat posed by the British National party.
The threshold for securing a conviction is so high that far-right activists are able to evade prosecution for material that many people would consider to be threatening and racist, according to sources at the Crown Prosecution Service (CPS). Several BNP leaflets have been referred to the CPS over the last five years – some by senior police officers and one by a judge – but no further action has been taken.
Peter Herbert, the chairman of the Society of Black Lawyers and a part-time judge, submitted a complaint last year over a leaflet called The Changing Face of London that had two pictures, one depicting an all-white street party from the 1950s, the other showing three Muslim women wearing a niqab, one of whom is making a V-sign towards the camera.
Under the law, it has been extremely difficult to mount a prosecution against extremism and hate speech," said Herbert. "But with the rise of the BNP, and the subsequent rise in racist attacks and the fear the party's leaflets can provoke, it is essential we are given the tools to deal effectively with this threat."
---
Of course, the main obstacle to a successful prosecution of the BNP over its incitement of Islamophobic hatred is that Muslims are legally defined as a multi-ethnic faith group. They are therefore covered not by the racial hatred laws but by the 2006 Act dealing with incitement to religious hatred. The latter requires not only that the offending material should be explicitly "threatening" but that the prosecution should prove subjective intent, which in practice means that the religious hatred law is completely useless as a means of combating the BNP.