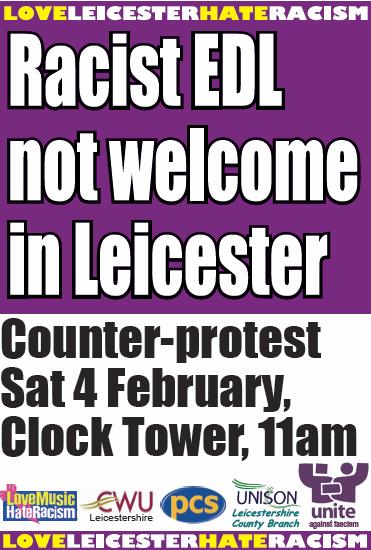 Antiracists will take to the streets to show their opposition to the racists and fascists of the English Defence League on Saturday 4 February.
The EDL thugs want to stir up racism and division among the city's diverse community. But people in Leicester have already shown the EDL is not wanted in Leicester – thousands turned out to show their opposition to the EDL and in October 2010.
Now black, white and Asian people are set to show their unity against the EDL again at a 'Love Leicester, Hate Racism' demonstration organised by UAF in the city centre on 4 February.
The protest against the EDL will assemble at 11am on Saturday 4 February at the Clock Tower, Leicester City Centre.
The antiracist, antifascist event is supported by CWU Leicestershire branch, Leicestershire County Unison, PCS Leicester and Leicestershire branch, Stoneygate Labour Party, Unite 0168M branch and Leicester District Trades Council.
Please join the protest against the EDL – bring your banners!
Last week, a packed public meeting heard UAF speakers, local trade unionists, community leaders, youth activists and Labour councillors urge unity against the EDL.