Hundreds of people are expected to march through Portsmouth in protest over a Muslim primary school in the city.
Members of the local community along with Britain First and English Defence League (EDL) members plan to march from Lake Road, where the Madani Academy is to be based, on Saturday. They will then walk through Fratton Road, Victoria Road South and Albert Road, returning to Lake Road before the march finishes at Guildhall Square.
Hampshire police has confirmed it is aware of the march taking place and there is expected to be a police presence.
Natasha Payne, 28, of Portsmouth, is one of the organisers. She said: "I just believe it [the school] is going to divide us even more. We should all be mixed, we should be mixing together. This is not about religion, I'm not a racist person. We should just all be together.
"It's about being given the choice if we want to allow our children to go there, regardless of beliefs. This is not a racist march – we want the communities to come together."
Portsmouth News, 9 October 2014
"Not a racist march"? Odd, then, that the EDL are busily promoting it.
This is not the first time the Madani Academy has been targeted by the far right. In August last year the school was the object of a protest organised by a coalition of extremist groups including the EDL. In December a pig's head was stuck on the fence outside the building.
Update:  Further details from Pompey Against the Nazis.
An EDL supporter posted the following appeal on Facebook:
"Hello everyone please can everyone share this we have organised a march for this Saturday the 11th start in at 12 noon the route Starts at the muslim school in lake road….down fratton, then onto Victoria Road South past the jami mosque then onto Albert road, back up Lawrence road, onto fawcett road back onto fratton road back at start point!!! This is a protest for our country to stop moscs Islamic schools n there law bring as many people as u can its time to take back wat our ancestors thoughts wars to keep be with us or against us hope to see u all there."
Pompey Against the Nazis observes that, if this is accurate, then the police are intending to allow the far right to march through an area where many Asian-owned businesses are situated and past the two main Portsmouth mosques. (Update: The route of the march will reportedly exclude Albert Road.)
Here is a statement by the organisers about the purpose of the march: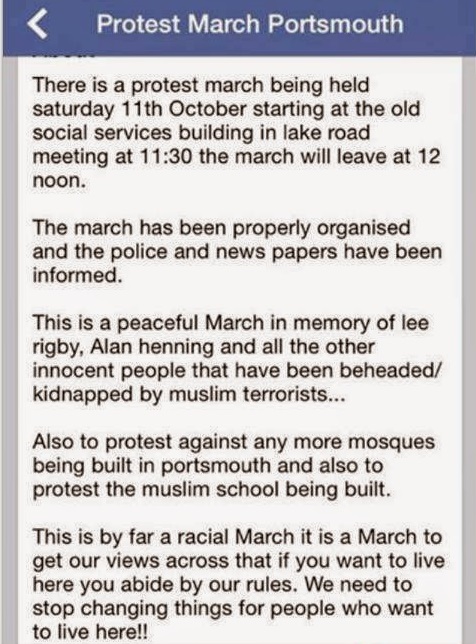 Clearly the march isn't just about the Madani Academy. It's also to protest about the murder of innocent people by "Muslim terrorists", to call for a ban on building any more mosques in Portsmouth, to demand an end to "changing things for people who want to live here" (i.e. migrants), and to insist that "if you want to live here you abide by our rules". In other words, the usual bigoted combination of Islamophobia and xenophobia. Nothing racist about that at all, obviously.
Update 2:  Details of counter-demonstration here.
Update 3:  See also "Muslim school protesters march through Portsmouth", Islamophobia Watch, 11 October 2014