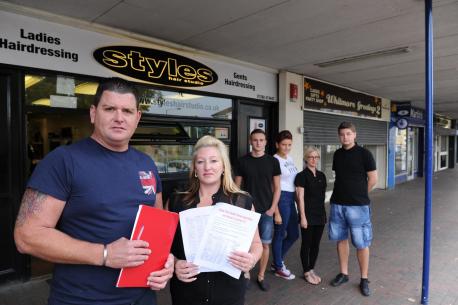 More than 750 people have signed a petition following fears an abattoir could be built just yards from flats and businesses.
Residents and traders claim they have been told by a businessman he plans to open a Halal abattoir in the parade of shops in Timberlog Lane, Basildon, in the coming weeks.
Basildon Council says no planning application for any such business has been made to it. However enforcement officers will be visiting the site in the coming weeks.
It is believed the businessman plans to open the abattoir at 217 Timberlog Lane, which was formerly a greetings card shop. Jane Higgins and Andrew Whitworth, whose business Styles Hair Studios, would be next door to the abattoir, started the petition.
Mr Whitworth said: "The businessman told us he was building an extension to his business so he could open a Halal abattoir. He claimed to us he did not need permission for the business because there has already been a butchers there.
"We are very worried, the premises are very close to homes and other shops and it is not the kind of business we want here. We are very worried about the smell, about live animals being kept outside and the noise. We have employees who are vegetarians and it is very upsetting for them."
Under Halal rules, animals are killed with a single cut to the throat, rather than the more widespread method of animals being stunned with a bolt to the head.
A resident of nearby Long Riding, who did not want to be named, questioned why Basildon needed a Halal butcher. She said: "This is totally outrageous. We have got housing and schools in that area and the screams of animals being slaughtered are going to be heard by everyone."
Richard Moore, Basildon councillor responsible for planning, said: "The council is not aware of any breaches in planning at 217 Timberlog Lane. However, enforcement officers will look into the situation."
---
Some of us might be inclined to question the motives and credibility of a man who campaigns wearing a t-shirt with a Union Flag on it and posts an appeal for support on the Essex BNP Facebook page.
It seems more likely that what is actually proposed for the former greeting card shop is a halal butchers, rather than an abattoir. One can only hope that Whitworth's vegetarian employees will be able to live with that.