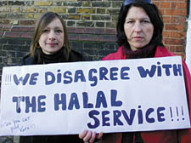 Angry parents have staged a demonstration outside a London school after its decision to serve only halal meat.
The change over to halal meat was made after a consultation with parents, which showed that 77 per cent of those were in favour of the decision. Fewer than six out of ten parents responded.
Muslim parents at Kingsgate Primary School in West Hampstead, where three quarters of the pupils are Muslim, accused the protesters of racism. Solveig Francis, a parent, said: "This is just naked racism, it's got nothing to do with choice. They talk about keeping up English values but the most important value we have is democracy. It's about time that was upheld."
Staff at the school were forced to take phones off the hook after receiving abusive calls from people claiming to be from the BNP. Liz Hayward, the head teacher, had to call the police after a father came into the school to challenge her over the decision.
Jacqueline Gomm, the protest leader, said: "I totally deny being guilty of racism. We allow people to come into this country and we end up being in a minority. We accommodate other cultures at the expense of ours."
See also the Daily Mail, 9 February 2007
And Camden New Journal, 8 February 2007