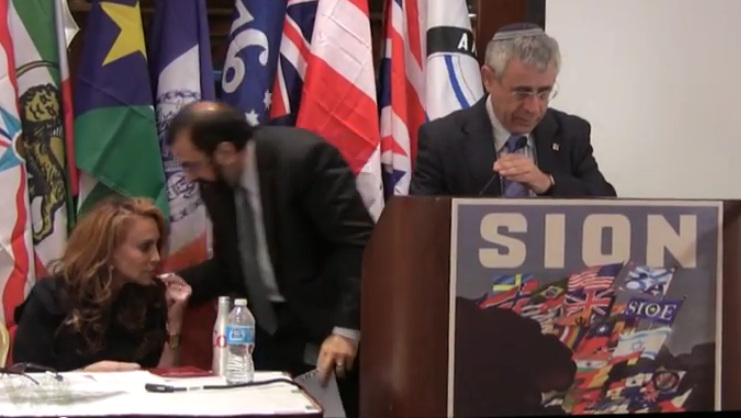 Brighton & Hove Palestine Solidarity Campaign will be holding a demonstration this evening against Mordechai Kedar, the Israeli right-wing extremist currently on a lecture tour of Britain organised by the Zionist Federation.
Kedar is a close ally and co-thinker of Pamela Geller and Robert Spencer, the US Islamophobes banned from the UK because of their record of inciting anti-Muslim hatred. Earlier this year he provoked outrage by arguing that the only way to deter attacks on Israel would be to rape the female relatives of the perpetrators.
MORDECHAI KEDAR NOT WELCOME IN OUR CITY

Opposite Ralli Hall, Denmark Villas, Hove – very close to Hove Station

Kedar is an Israeli "academic" with an appalling record of racist and misogynist views. He is speaking tonight at the Ralli Hall in Hove at the invitation of Sussex Friends of Israel and the UK Zionist Federation. Please join us at 6pm to demonstrate our anger and opposition.

Kedar lectures at Bar-Ilan University – itself deeply complicit in the occupation of Palestine and the broader apartheid project. He stated in an interview earlier this year, when asked his view about deterring so-called Hamas terrorism: "the only thing that can deter terrorists… is the knowledge that their sister or their mother will be raped."

Several of Kedar's UK appearances have been cancelled – not because of the threat of disruption, but because the venues themselves (a synagogue and a Jewish college) wished to distance themselves from Kedar's racist and misogynist views.

His Hove gig, sponsored by SFI, is going ahead.

Join us at 6pm opposite Ralli Hall. And please circulate this call-out to anti-racist and feminist networks.
Update:  See "Shame on you for hosting racist speaker!", Brighton & Hove Palestine Solidarity Campaign new report, 9 December 2014
And "Protest against entry of Dr. Mordechai Kedar", Palestine Solidarity Campaign, 9 December 2014