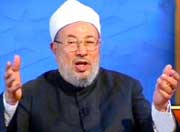 Doha-based religious scholar Dr Sheikh Yousuf al-Qaradawi yesterday expressed his sorrow over the riots in Paris suburbs and other French cities having Muslim and African communities.
"We are vehemently sorry for the deterioration of the situation to the point which led to burning of cars, public utilities and harming interests of the people and the French state," Qaradawi said in a statement to Qatar News Agency.
"While we are passing through such blessed days, we would have wished people exchanging peace, amity, felicitations with Eid al-Fitr," he added. "We, as Arabs and Muslims, wish France and its friendly people security and safety, especially as France's stand on Arab and Islamic causes is characterised by fairness, justice and liberation, to a reasonable degree, from the US subordination."
He called upon the Muslim community in France to resort for calmness and tackle the situation with wisdom and rationality and urged Muslim religious and political leaders to intensify peace efforts.
He also called upon the French government not to deal with the situation from the security point of view but through dialogue with the country's religious and political leaderships and try to find a common degree of understanding to resolve problems.
---
And how does David T summarise Qaradawi's statement? "So, here's the deal. If Qaradawi approves of your country's stand on Arab and Islamic causes abroad, he'll use his influence to call for calm. In parallel, the Government should partner with the Muslim Brotherhood leadership in seeking a solution to France's social problems at home."