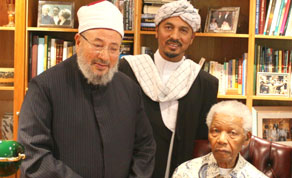 Islamic scholar Sheikh Yousuf al-Qaradawi, who is on a visit to South Africa, met South African leader Nelson Mandela and gifted him some of the books he authored on Islam and the Holy Qur'an.
Qaradawi, who arrived in Johannesburg on Friday, hailed the South African leader as the "hero of Africa".
He also gave lectures at the Muslim Judicial Council on duties of Muslim minorities in the world. The scholar also met with leading figures from the Muslim community in South Africa as well as some Arab diplomats.