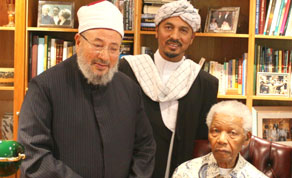 Qatar-based Islamic scholar Sheikh Yousuf al-Qaradawi yesterday slammed the practice of denying women access to mosques by Muslims of South Africa as well as of the Indian subcontinent and said that he was surprised that women were not allowed to attend any of his lectures in Johannesburg during his recent visit there.
In his Friday sermon, Sheikh Qaradawi said that during his visit to South Africa, he was surprised by the "unreasonable practice" of not allowing women from entering mosques as well as by the ban to videotape his lectures in Johannesburg.
"It was my first visit to South Africa and I was impressed with its Muslim community's commitment to Islamic rules as well as its unity, but it was the ban on women's entry into mosques which drew my attention. I told the (community members) that this was un-Islamic and they should stop it," he told a congregation in a mosque at Khalifa South.
"I know they did that because they follow the Abu Hanifa school of thought but they should know that time has changed. If Abu Hanifa himself were with us today, he would have changed his mind. It is unreasonable that women could now go to universities, markets and travel, but are not allowed to enter a mosque in some countries."