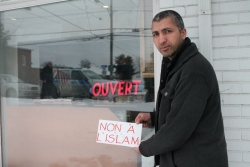 A halal shop owner in Quebec's Eastern Townships is blaming the provincial government's secularism charter for acts of vandalism and violence, including air-rifle shots fired at his window.
Vandals have also showered Souibgui Abdelbari's store with "No to Islam" placards and hundreds of paper crosses. "In my opinion, this is related to the charter," he said, referring to the Parti Quebecois' proposed ban on religious symbols in the public service. These things didn't happen in Sherbrooke before that."
Attacks against Abdelbari's shop have intensified in recent weeks. A storefront window was shattered twice and he also found bullet holes in a window. More recently, the front of his shop was littered with about 500 small crosses. "It makes me fear for my family's safety," he said. "Someone who does things like that could do something worse."
Several anti-Islam signs were also found near a local mosque. Officials at the Islamic Cultural Association of Estrie had little to say about the incident. "All these people want is to spread their message," mosque vice-president Abdellah Chaker said. "So we decided not to give them publicity."
Sherbrooke Mayor Bernard Sevigny, for his part, wanted to send a clear message to the perpetrators. "These actions are unacceptable," said the mayor, who has visited Abdelbari's shop to offer support.
Several incidents targeting Muslims have made headlines since the PQ announced their secularism charter last fall. Recent incidents include a Montreal subway commuter who tried to rip off a Muslim woman's hijab, and a mosque in Saguenay, Que., that was splattered in pig's blood.
See also "Man arrested for anti-Islamic vandalism in Sherbrooke", CJAD, 14 February 2014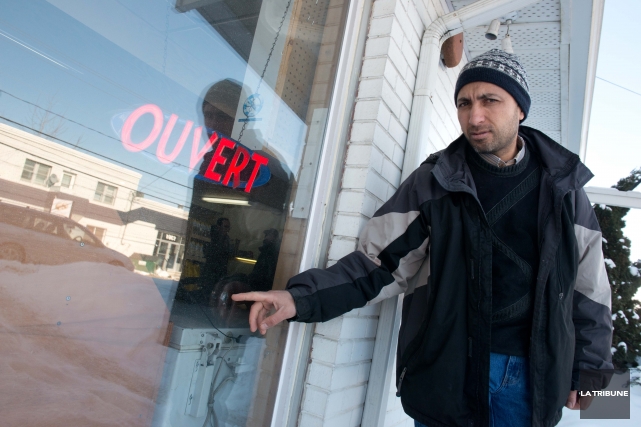 Souibgui Abdelbari indicates a bullet hole in window of his shop