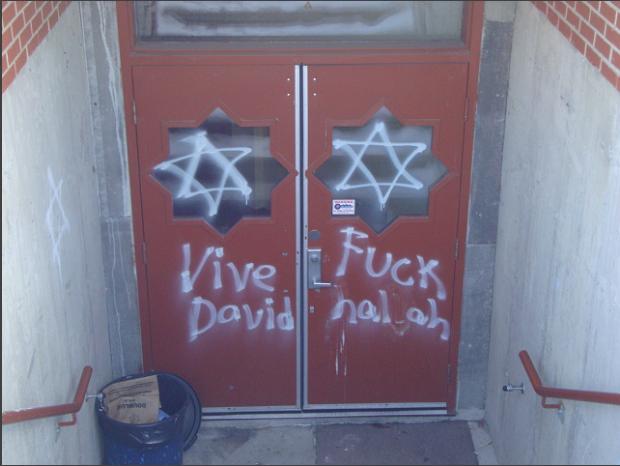 A mosque in Gatineau, Que., that has been a target of vandalism was spray-painted with graffiti overnight.
Workers at the Outaouais Islamic Centre awoke Thursday to discover swear words and derogatory references to Arabs and Allah spray-painted in white. The vandals painted messages on the front doors, across the building's side and on two other entrances to the building.
The mosque had earlier been vandalized Monday morning when windows were damaged and someone attempted to set fire to two cars in the parking lot.
Mosque secretary general Amadou Thiam urged police to do their utmost to find the perpetrators. The mosque has turned over security video footage to police.
Gatineau police said they believe the lone man in his twenties caught on camera in the latest incident was also responsible for the earlier vandalism. Police said it was the fourth incident in the last six months.
The Canadian Council on American-Islamic Relations (CAIR-CAN) condemned the vandalism Thursday and said authorities should investigate the incident as a hate crime.