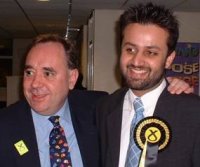 That latest "Quilliam alert" from Ed Husain and his mates is headlined "Scottish National Party to endorse Islamist candidate".
It is a disgraceful attack on Osama Saeed, of the Scottish Islamic Foundation, who has been selected as the SNP's parliamentary candidate for Glasgow Central. Even by Quilliam Foundation standards this really is the pits.
It is increasingly clear that Quilliam are pursuing an hysterical witch-hunting agenda against mainstream Muslim political figures that is almost indistinguishable from the sort of vile propaganda you get from Harry's Place or the Centre for Social Cohesion.
Which may not be unconnected with the fact that James Brandon, Senior Research Fellow and Head of Communications at Quilliam, is a former employee of the CSC who recently guest-blogged at Harry's Place. This particular media release, chunks of which are lifted directly from an earlier "briefing" (pdf) by the CSC, has Brandon's fingerprints all over it.
You might have hoped that even Ed Husain and Maajid Nawaz would baulk at such shameful Douglas-Murray-inspired methods. But apparently not.