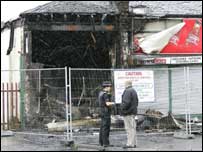 Racist incidents across Scotland have soared following the terrorist attack on Glasgow Airport. New figures reveal a surge in cases of violent attacks, abuse and harassment in the four weeks after the car bombing, with the worst cases including attempts to blow up an Asian shop and a mosque.
The biggest increase has been recorded in the Strathclyde region, where there were more than 250 incidents, of which more than 10% were directly linked to the airport attack on June 30.
Politicians and Muslim leaders in Scotland said the attacks showed that a minority of people were targeting Asians because they wrongly believed they are potential terrorists. Other members of the Asian community claim that the real number of attacks is much higher, with many incidents going unreported to the police.