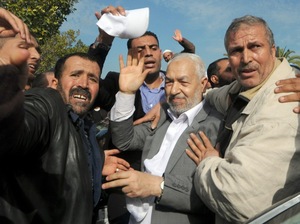 PARIS — A noted Tunisian Islamic thinker urged the world's Muslims on Monday to reject extremism and restore the true nature of Islam.
Rachid Ghanouchi, a founder of Tunisia's once-banned Ennahdha, or Renaissance, party, gave the closing speech at an annual Muslim gathering outside Paris in his first visit to France in more than two decades.
Extremism takes root in injustice, but must be fought, he said. "Today, Islam is associated with violence, terrorism … with refusing religious and political diversity, (being) against women's rights. Today, it is presented as a plague," Ghanouchi said.
But, he insisted, extremism "isn't a legitimate child of Islam. … Our challenge is to respond to restore the image of Islam." He spoke in Arabic through a translator to a crowd of several thousand at the annual meeting of the Union of Islamic Organizations of France, which brings together Muslim fundamentalist associations.
Ghanouchi's Ennahdha party was branded a terrorist group by Tunisia's autocratic leader Zine El Abidine Ben Ali who was toppled in a monthlong uprising and fled to Saudi Arabia on Jan. 14.
Ghanouchi, 69, himself spent two decades in exile in London after being convicted twice of terrorism-related offences. Today, scholars consider him a moderate.
He was the star speaker at the four-day gathering and his speech drew cheers from a crowd that feels unfairly targeted by French authorities enforcing the nation's secular foundations, including the recent ban on burqa-style veils. Only a tiny minority of Muslims wear them, and few were seen at Monday's meeting.
Ennahdha, made legal in Tunisia on March 1, is now among more than 50 political parties formed since Ben Ali fled.
Ghanouchi said the Tunisian revolution, which has sparked uprisings in the Arab world, succeeded because values were shared by an entire population, underscoring the importance of social cohesion. The same case applies to Egypt, which ousted President Hosni Mubarak, he said.
On the other hand, "One cannot imagine that an entire people or nation" follows extremist thought, he said, adding that Islam "insists on balance" and "finding the middle path."
There are abiding concerns that Islamists in Tunisia could undo women's rights in the North African country or impose a strict Islamic code. However, Ghanouchi insisted that "Islam marries well with democracy" and respect for equality between men and women.