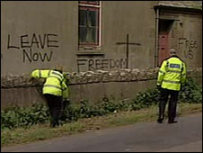 A disused chapel in a sparsely populated hamlet far from the summer tourist crowds has emerged as a crucial testing ground of Cornwall's reputation as an easy-going haven for those looking to escape the pressures of urban life – whatever their race. For amid green rolling hills just a few miles outside the cathedral city of Truro, the slate-roofed Bible Christian church at Quenchwell, near Carnon Downs, is under sustained assault from racists opposed to a planned community centre for the county's Asians.
The third attack in recent weeks was discovered in the early hours of Thursday morning. Obscene graffiti defaming Islam and espousing the cause of Cornish nationalism was splattered across the walls of the chapel. In earlier incidents a pig's head was nailed to the door and "KKK" – Ku Klux Klan – was painted in red gloss on an outside wall. The most recent grafitti included BNP slogans.
For Tipo Choudhury, a local restaurateur who bought the chapel and has become the reluctant voice of the Asian communities here, the events have come as a terrible shock. The British-born father of three has been raising his family in nearby Penzance since the mid-1980s. "In 22 years I have had no uncomfortable moments, until now. When you suddenly get called a 'Paki bastard' here in Cornwall it makes you jump. This sort of thing just does not happen here," he said. In addition to the attacks on the chapel, he was also racially abused by a passing motorcyclist while standing outside the building. "Racism is showing its ugly head. It shows prejudice is alive and kicking," he added.