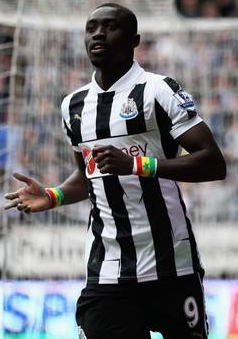 Newcastle United striker Papiss Cisse has been the subject of racist abuse on the NEWCASTLE – English Defence League Facebook page.
The abuse centres around Cisse's religion and comes after reports emerged that Cisse will refuse to wear Newcastle's new kit which will be branded with Wonga.com, a payday loans company.
Cisse joined Newcastle United in January 2012 and has scored 21 goals in 50 Premier League games for Alan Pardew's side.
Both Cisse and girlfriend, former Miss Newcastle Rachelle Graham, have been the targets of abuse online in recent months. Graham was the subject of abuse via both twitter and a racist forum over her relationship with Cisse.
Miss England hopeful Graham, who won Miss Newcastle in 2012, was alerted to the website by her mum who was astonished at the language used describing her daughter and the Newcastle striker.
Most of the comments made on the website are too vile to report but Miss Graham was described as a 'despicable race traitor xxxxx' by bigots who disparaged her bid to raise money for Friends of Sehdiou, a charity that works with Cisse, by skydiving from 13,000 feet.
Cisse has recently been linked with a move away from Newcastle United with Russian side Anzhi Makhachkala and Champions League finalist Borussia Dortmund rumoured to be interested in signing him.
In a statement from Northumbria Police on the abuse aimed at Cisse, Temporary Chief Superintendent Dianne Winship said: "We have been made aware of abusive comments made on Facebook. Northumbria Police take all reports of abuse very seriously and enquiries are being conducted."