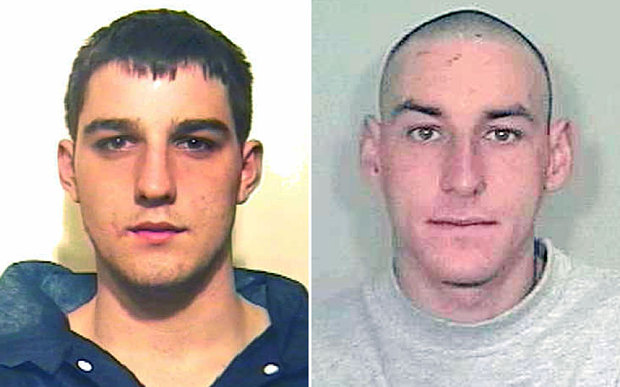 Two men who tried to send a letter bomb to a Halifax solicitors from prison have had several years added to their sentences.
Bret Atkins, 24 from Leeds and Jamie Snow, 27 from Humberside posted crude explosive devices and racist letters from HMP Full Sutton at York to solicitors in West Yorkshire and Lancashire. Officers from the Counter Terrorism Unit were alerted by prison officers after they intercepted a letter containing an incendiary device.
In July, a Leeds jury found Atkins guilty of Conspiracy to Send an Explosive Substance with Intent. Snow pleaded guilty to Sending an Explosive Substance with Intent and two offences of Threats to Kill.
Yesterday at Leeds Crown Court, Atkins was sentenced to seven years and Snow to six years three months.
Det Chief Supt Ian Wilson, Head of the North East Counter Terrorism Unit, said: "Bret Atkins and Jamie Snow waged a campaign of hate against innocent people, choosing victims purely on the grounds of their race or religion. They expressed deeply racist and anti-Muslim views and sent a series of threatening letters designed to instil fear in their recipients.
"Snow and Atkins took their hatred beyond threats to kill and even tried to post explosive materials in an attempt to cause harm or injury. Thankfully this mail was intercepted by vigilant officers within the Prison Service and was never able to enter the postal system."
Huddersfield Daily Examiner, 5 September 2014
---
See also "Hull murderer Bret Atkins has sentence extended after sending letter bombs to Asian solicitors from prison cell", Hull Daily Mail, 5 September 2014
The report states:
Judge Jameson was told the pair had a "shared racial hatred" of Asian people and had threated to kill Asian prisoners, attack the imam at Full Sutton and burn down mosques.

Jonathan Sandiford, prosecuting, told the court how prison officers heard Atkins bragging in phone calls over his deal with Snow on who could kill the prison imam first. He was overheard saying: "Me and Snowy have got a deal – whoever gets to him first can have an ounce of Amber Leaf (tobacco)."

Mr Sandiford also said the pair daubed threats against Muslims on the walls of their cells in excrement.
Atkins "laughed as his barrister Philippa Eastwood told the judge he had converted to Islam after arriving at Whitemoor". Presumably that claim was Atkins' idea of a sick joke.
According to the Press Association report, Snow sent a letter to another law firm, signing it "your neighbourhood Muslim-killer".