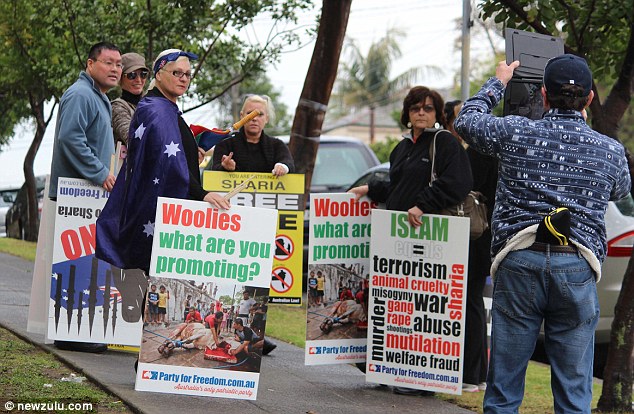 A small group of eight people from the racist, far right "Party For Freedom" held a protest outside Woolworth's supermarket in Marrickville on July 26. They were objecting to a sign saying "Happy Ramadan" the store had put up earlier in the week.
The Party for Freedom is a newly formed group that grew out of the white nationalist Australian Protectionist Party. It campaigns against multiculturalism, wants to "halt Muslim and third world immigration", encourage "culturally compatible migrants" especially from Europe and North America, and wants Australia to withdraw from the UN refugee convention.
A counter rally of 50 people gathered at the same place and time to show that racist views are not welcome. They held signs saying "racists out of Marrickville" and "let's celebrate multiculture on Aboriginal land".
Green Left Weekly, 26 July 2014
See also "Anti-Muslim protesters clash outside Woolworths store after supermarket displays posters celebrating Ramadan", Daily Mail, 26 July 2014
The Mail report quotes Party for Freedom chairman Nick Folkes as claiming that Islam is "incompatible" with the Australian way of life. "I don't know why Woolworths is celebrating a ideology that I think is worse than Nazism," he said.