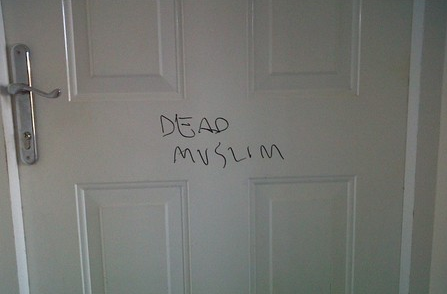 The victim of a suspected Woolwich revenge attack has said she forgives the person who scrawled "Dead Muslim" on her front door.
Police believe Njaimeh Jawara was targeted because of her religion in the wake of last month's horrific murder in south east London, during which two suspected Muslim extremists hacked serving British solider Drummer Lee Rigby to death.
Mrs Jawara was made aware of the sickening graffiti, inscribed in permanent ink, by a neighbour while she was away from her East Grinstead home.
Unbeknown to the vandal, Mrs Jawara, known as Jenny to friends, has a son who has served for 15 years in the British Army, fighting in Iraq and Afghanistan.
Speaking at her Tower Close flat, the 63-year-old was clearly upset by the Woolwich attack, as it reminded her how vulnerable her own son is. She said:
"When I saw the slaughter of the soldier in Woolwich I cried. I just could not believe a man had been slaughtered like that in this country. He was just like my son, in the British Army. I could not eat for two days after because I was upset. I just wish I could have done something to help. But my son is so happy to be in the Army, he loves it and I am proud of him because I love this country."
She added that she would not be scared away from her home. "I am a true Muslim so I don't feel scared and I do not feel bad for what has happened to me. The person who did this is a coward; they should say something to my face," she said.
"I have faith in Allah so whatever the person did I just take it. Allah will decide what happens to the culprit, I will leave it in his hands and he will decide what happens. But I do not think what the culprit did was racist. He is stupid and maybe he was drunk when he did it. If I saw him now I would ask why he did it. I think it is important to get to the root of why it happened.
"I am not scared and will not move from here. East Grinstead is my home; I was the first person to live here in these flats when they opened in 2004. If I did move then the person who did this to my door wins. No, this makes me stronger, it has given me strength. I will still wear my hijab when I leave my home, I am not scared."
Sergeant Graeme Prentice said: "Although this is a very isolated incident for this area, hate crime and hate incidents are not acceptable under any circumstances." Anyone with information on the crime should call police on 101.
East Grinstead Courier & Observer, 6 June 2013
See also BBC News, 6 June 2013