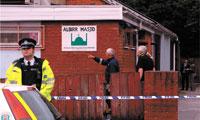 Police investigating an arson attack on a mosque are looking into threats made to occupants of a nearby property.
Three hours before the Albirr Mosque was set alight on Saturday, a man tried to force his way into a property in Goat Lane, Basingstoke. Hampshire police said the man made racist and religious remarks to those inside and references to recent anti-terror arrests in London.
The blaze occurred in the roof of the mosque and police believe the perpetrator, who has not been found, may have received burns.
See also "Mosque targeted in arson attack", Basingstoke Gazette, 16 August 2006
Update:  See "Racist graffiti on arson mosque", Islamophobia Watch, 24 September 2006