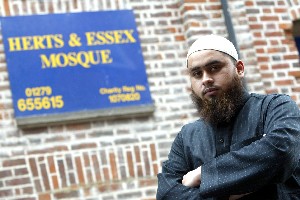 Bishop's Stortford's Muslims are living in "distress, fear and isolation" after their mosque was attacked by hammer-wielding thugs who abused and intimidated their religious leader.
Imam Humayun Islam was forced to flee his community's place of worship at Millars 2, off Southmill Road, and seek refuge in an Indian restaurant when he was chased by the drunken yobs.
The group of about five men, aged in their 20s and 30s, first struck on Monday last week while worshippers were praying for the fourth time, just before 9pm. The imam said: "They came inside and started throwing our shoes out. They were heavily drunk."
The cleric said that when he remonstrated with the intruders and asked them to leave, he was threatened with a hammer and called a "suicide bomber". A punch was thrown and the gang started breaking glass in the mosque door, before running off as police arrived.
After the officers left, the imam and his fellow Muslims began clearing up the damage and were horrified to hear the attackers return, this time wielding bottles. Several worshippers fled and the imam was chased. He managed to avoid harm only by giving the gang the slip and hiding in the takeaway.
On Tuesday, he told the Observer: "It was a serious racist attack." He said that it was the most frightening of a series of problems for the town's Muslims amid a growing atmosphere of Islamophobia.
Herts & Essex Observer, 6 May 2009
Update:  See "Police appeal for witnesses after Stortford mosque attack", Herts & Essex Observer, 6 May 2009