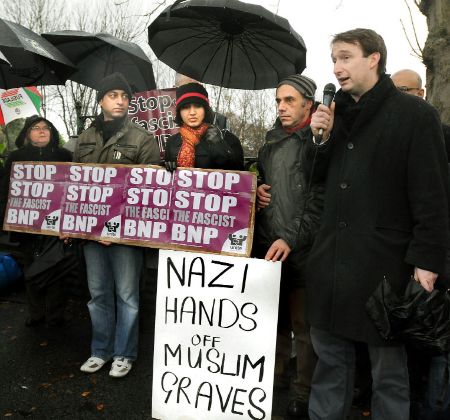 More than 100 people joined a vigil outside Southern Cemetery in south Manchester following the desecration of Muslim graves.
The group – which crossed religious, social and political divides – met to show a united front against the action after more than 20 graves were vandalised.
It is the third time in three months that vandals have targeted Muslim headstones at the cemetery on Barlow Moor Road, Chorlton, and police are treating the attacks as a racist hate crime.
The 45-minute vigil was organised by Unite Against Fascism, and protesters waved placards as speeches were made by representatives of different uniting groups. Those taking part included leaders of the Muslim, Christian and Jewish faiths, along with members of white and non-white communities, and political representatives from different parties.
Speaking at the rally, Chorlton councillor and deputy leader of the council, Val Stevens said: "This attack is not an act of mindless violence. Those who did it knew exactly what they were doing. And we all know that they are a tiny, tiny minority in this city."