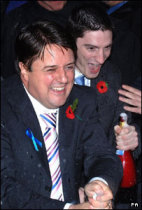 Anti-fascist campaigners reacted with outrage on Friday of last week as Nick Griffin, leader of the British National Party (BNP), and his sidekick Mark Collett were cleared of charges of incitement to racial hatred.
Griffin and Collett had been prosecuted over speeches at a BNP meeting in Keighley, West Yorkshire, that was secretly filmed by the BBC.
Griffin claimed that gangs of Asian men were drugging and raping white girls as part of an Islamic plot to take over Britain. He spoke of "Muslim thugs and perverts", "young paki street thugs" and Britain being "mongrelised out of existence". Collett made similar allegations about "gangs of Asian males".
In court Griffin argued that his comments were intended as criticism of Islam, rather than being directed at Asians in general. "This isn't a racial thing. It's not an Asian thing. It's a cultural and religious thing," he said.
His defence team argued that Griffin's views on Islam, expressed in 2004, had since become more acceptable. They cited recent comments by Jack Straw and other senior politicians to argue that such views were now legitimate public debate. These kind of arguments regularly appear in both the right wing press and its "liberal" counterpart. They have directly fuelled the atmosphere of anti-Muslim racism around this case.
Jon Cruddas, Labour MP for Dagenham, east London, was quite right to say that the government's "tough" stance on race and Muslims had played into the hands of the BNP. He said, "We have to be honest in saying that the debate over the veil, talking tough on immigration and race or the language used in the 'war on terror' does not reassure people but actually makes the situation worse."
Weyman Bennett, joint national secretary of Unite Against Fascism, said it was "tragic that a fascist organisation can hide behind free speech". But the verdict highlighted the need to build a united grassroots movement against the BNP that could challenge the fascists politically, he added. "We need to be campaigning against the fascists in our workplaces and communities. The vast majority of people are opposed to the BNP – and we need to mobilise that force against them."
Anti-fascists cannot rely on the judicial system to stop the BNP. The case underlines the importance of supporting Unite activity on the ground.
Anti-fascists from the north west of England will be travelling to Blackpool on 25 November to demonstrate against a conference the BNP plans to hold there. Unite and the local TUC will hold a rally in the town centre, followed by a mass leafleting.
Campaigners against the BNP in Barking, east London, will be out on the streets this Saturday to oppose a planned BNP demonstration in the town centre that day. A broad spectrum of trade unionists, anti-racist activists and faith groups has signed a statement condemning an organised and violent attack by BNP supporters on Unite campaigners in Morley, West Yorkshire recently.
Demonstrate against the BNP in Blackpool—assemble at 12 noon on Saturday 25 November opposite the main entrance to the Winter Gardens on Winstanley Grove.