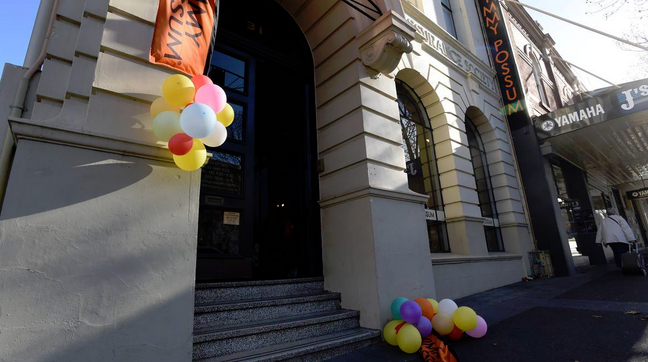 Members of the local Muslim community, a Bendigo business and a city councillor are among those to have received supposed threats from anti-Islamic protesters in recent days.
Jimmy Possum's Margot Spalding believes rainbow balloons, which were hung on her shop-front in support of diversity, were torn down by mosque protesters on Monday. She said it seemed like a concerted effort because four concrete beams bolted to the wall had been pulled out.
"In 18 months these flags haven't once been targeted by vandals and the timing of this doesn't seem like a coincidence," Ms Spalding said. "It's disappointing that people feel the need to be disrespectful. These things make you feel pretty threatened."
And Ms Spalding says she isn't the only one to be targeted – with many of her Muslim friends feeling the brunt of the protests.
"I know some Muslims living in Bendigo who feel fearful in town at the moment," she said. "They feel like they can't speak out from fear of reprisal in their own country and also what's going on locally. And when there is a whole group in town that don't like you, who are saying hateful, insidious things about you, you can understand why."
Ms Spalding said many Muslims in Bendigo were refugees who had escaped their own country in search of freedom. "They've experienced horrific things in their own country already and are just looking to escape that," she said. "They are after a life of safety and peace but now they're feeling nervous.
"And if you're new to town, you don't know if this will pass. But much of this protest is coming from outside of Bendigo and most people living here are open and welcome to the mosque and Muslims living in town."
It follows threats against City of Greater Bendigo councillor Mark Weragoda, whose house was targeted with anti-Islam black balloons.
The Bendigo campaign is just the latest in a string of challenges to the development of Islamic schools and prayer centres across Australia that have been linked to a handful of political groups and individuals.
Former Queensland One Nation candidate Mike Holt, the chief executive of non-profit organisations Restore Australia and Islam4Infidels, this week revealed his groups raised the money to hire a Sydney-based lawyer to fight the mosque proposal.