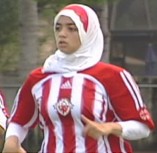 For six years, Iman Khalil has worn a headscarf with her soccer uniform. It wasn't a problem until this past weekend, when a referee decided before a tournament match on Saturday that the headscarf violated league rules.
"The referee looked at me and said, 'You can't play in that,'" the 15-year-old told The Tampa Tribune. "This isn't headgear or anything. It's part of the faith. I don't think it should be a problem that I wear it."
A league official overruled referee Steve Richardson during half-time, but he still refused to let the Muslim girl play in the second half of the game.
"At first I was extremely upset," she said. "I got very emotional. I kept my cool. I wiped my face because I was crying. But then everyone rallied around us. All the team. All the parents. Even the other team. It was just phenomenal."
The league later apologized to Iman and reminded referees that players are allowed to wear religious articles as long they don't pose a threat of injury.