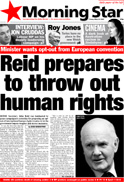 Reid prepares to throw out human rights
By Louise Nousratpour
Morning Star, 25 May 2007
Home Secretary John Reid was lambasted by peace campaigners yesterday for proposing an opt-out of international human rights treaties to let the government impose tougher anti-terror measures.
It was the first time that the government has indicated its intention to "derogate" from the European Convention on Human Rights so that it can put terror suspects under conditions which breach their human rights.
Answering an emergency Commons question on three terror suspects who have gone missing while under control orders, Mr Reid said that he will introduce a new counter-terrorism Bill to Parliament before stepping down in June.
Both Mr Reid and outgoing Prime Minister Tony Blair used the opportunity to attack Parliament for voting down plans to extend detention without trial to 90 days. A compromise last year resulted in upping the limit to 28 days.
A spokesman for Mr Blair arrogantly declared: "What this is down to is Parliament not backing us in the first place in terms of the length of additional period we wanted and in limiting the effectiveness of control orders."
Campaigners attacked the "outrageous" plans to opt out of the international treaty and condemned politicians, police and the media for treating the terror suspects – Lamine Adam, his brother Ibrahim and Cerie Bullivant – as convicts.
Stop the War Coalition convener Lindsey German pointed out: "These men have not been charged with anything. They are suspects and being a suspect is not the same as being convicted. They should be charged if there is any evidence against them or released immediately."
Ms German stressed that the "much bigger question is the rise in terrorism which has been linked to this government's foreign policies. If Britain and the US had not invaded Iraq and Afghanistan, we would not have threats of terrorism," she argued.
"Reid wants to usher in more repressive laws rather than own up to the government's role in all this. To defeat terrorism, the government must back justice for Palestine, withdraw all troops from Iraq and Afghanistan and change its foreign policy. That is what we will be demanding from Gordon Brown when we demonstrate at his election conference in Manchester on June 24," Ms German added.
Communist Party of Britain general secretary Rob Griffiths said that Mr Reid's "outburst confronts Gordon Brown with a crucial question as prime minister in waiting – will he continue to erode our fundamental civil liberties like his predecessor or will he begin to defend democracy in Britain? Britain's judges are not noted for their libertarianism, yet even they can see that it is wrong to lock people up in the absence of any evidence."
Left-wing Labour MP John McDonnell branded control orders "an abuse of human rights," adding:"To go further flies in the face of the history of civil rights in this country and must be opposed. The issue is straightforward – if there is evidence against an individual, then they should be tried fairly before a British jury. This has been the basis of our law for almost eight centuries."
Control orders are a loose type of house arrest brought in under the 2005 Prevention of Terrorism Act. A person can be held indefinitely under such orders without being charged or even told why they are under suspicion.